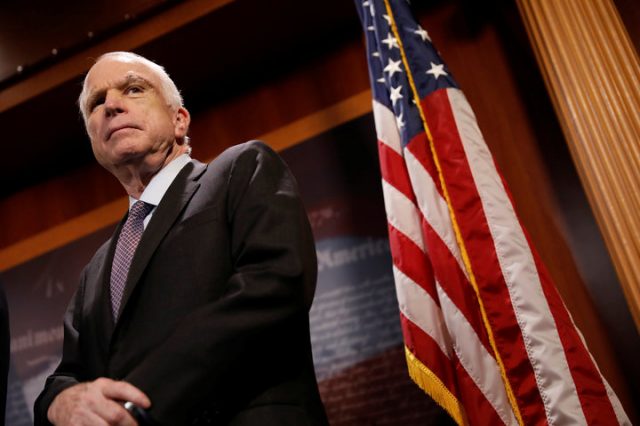 I watched my father, a World-War II Marine wither and die from cancer. The process kills its victim, and it can break the loved ones. That reality is particularly harsh when your loved one has been a war hero, role model, and pillar of strength. John McCain's diagnosis was rough, and I had a heartfelt concern for his likely outcome.
The self-described "Maverick" is in the home-stretch, and I wish him a pain-free departure from a life of amazing accomplishment. Mostly, however, I'd like to see the man die with dignity. It appears he does not share the same wish.
It is a little known, if not unknown, fact that I was the one who recommended that McCain suspend his presidential campaign. I am not even sure he knows that the suggestion, a speech, and a strategy came from me. What he did next, taught me much.
I learned then that Mr. McCain was neither a principled conservative nor a disciplined candidate, let alone a smart and thoughtful leader. He was a rash, undisciplined, short-sighted, politician who turned great advice into a parlor joke when he abandoned the suspension and inexplicably took the same position on the bailouts as his younger, wiser, more charismatic opponent. It was political suicide.
McCain made a political career out of shooting himself in the foot. Indeed, even in heroism, he found himself the lucky survivor of being shot down and captured. But Mr. McCain proved his will could not be easily broken. Unfortunately, his political career is one where his will was never about backing conservative principles. It was about remembering personal slights and living to avenge them.
His pettiness is the disease that infects our sick political culture.
The media loved McCain, most of the time. They liked to portray his "maverick" image, which really was his penchant for self-promotion. The media gobbled up and sold his self-serving style, and it never focused on John S. McCain's propensity to sell out his party, his so-called conservative principles, and when necessary, his constituents.
John McCain is a small man, and he has not earned the appearance of a President at his funeral, not even a President Trump. McCain, in these last weeks, made the office of Senator smaller.  His recent foolish, petty, disrespectful proclamations are iron-clad proof that he was never Presidential timber.
I regret trying to help him get elected.
McCain's recent expression of remorse at picking Sarah Palin as his running mate is classic McCain. It is an apology to the left for being conservative. It's not a mea culpa. That is to say, he doesn't consider the pick his fault, he considers his own pick the reason he lost. That's some apology. Heck, I regretted his pick too.
A real statesman doesn't use his pending death as an opportunity to throw his hand-picked, former running mate overboard. It's embarrassing, John McCain.
McCain's declaration that he does not want the sitting President at his funeral as a result of their personal feud is text-book political pettiness. Moreover, it's proof that the McCain used his country, party, voters, and personal honor just to stick it to Trump by voting down the repeal of Obamacare on which McCain ran and championed.
The Trump ban at his funeral is an admission of his own tininess.
No, I don't wish for Mr. McCain to die. Heck, I don't like the President much more than he does. And, no conservative I know would wish for a McCain to die. In fact, I'd love to see him beat the impossible odds and come back. I'd love to see him granted more time with his family and to be granted a new opportunity to reflect on his final actions.
In the end, Mr. McCain has made himself smaller. He has disgraced himself and exposed for the world to see that he is a bitter, angry, caustic, petty, grudge-holding simpleton. He has lost any of the dignity that should attach automatically to a life with his resume.
I don't wish Mr. McCain ill-will. I wish for him a miracle. If he cannot fight off this wretched cancer, I wish that he would choose to die with dignity.
Ironically, he hates President Trump for Trump's attacks on him and for Trump's lack of couth and class. Yet, here he is, in the autumn of his time bleating, "you think Trump is classless, watch this."
John McCain is dying without dignity, and it is brutal to watch.
Author:
Richard Kelsey
Richard Kelsey is the Editor-in-Chief of Committed Conservative.
He is an Attorney, a former Assistant Law School Dean, Law Professor, and Virginia state court law clerk. Dean Kelsey was also the CEO of a technology company specializing in combating cyber-fraud. He is a regular commentator on legal and political issues in print, radio and on TV.
Rich graduated from George Mason law school, clerked for the Arlington Circuit Court, and later joined an AM LAW top 10 law firm practicing commercial litigation. He left the firm to be counsel and CEO to a consulting firm, rising to CEO of Turiss, LLC, a technology firm specializing in computer forensics, digital investigations, and fighting cyber-fraud through civil intel services and new technologies. Upon the sale of the company, Kelsey returned to Mason Law, where in the years before his return, he both taught at the school and served as President of the Law Alumni Association. Kelsey was the Assistant Dean for Management and Planning.
At Mason, Dean Kelsey taught legal writing and analysis and an advanced litigation seminar. In 2014 he was elected by the graduating class as the faculty speaker at their graduation. While serving the former George Mason Law, Kelsey conceived of, planned, and brought to fruition Mason's Center for the Protection of Intellectual Property, known as CPIP.
Rich has appeared on radio, TV, and in print hundreds of times as both a legal expert and political and legal commentator. He provided the legal analysis for all stages of the Bob McDonnell trial and appeal for numerous outlets including NPR and WMAL. He writes on occasion for the American Spectator and CNSNews.com. He returned to private practice in September of 2016, and he is working on a book/expose on legal education.
In his free time, Rich is part of the baseball mafia of Northern Virginia, serving on numerous boards and as a little league and travel baseball coach.
Rich has many opinions, and they are his own. His Twitter handle is @richkelsey.