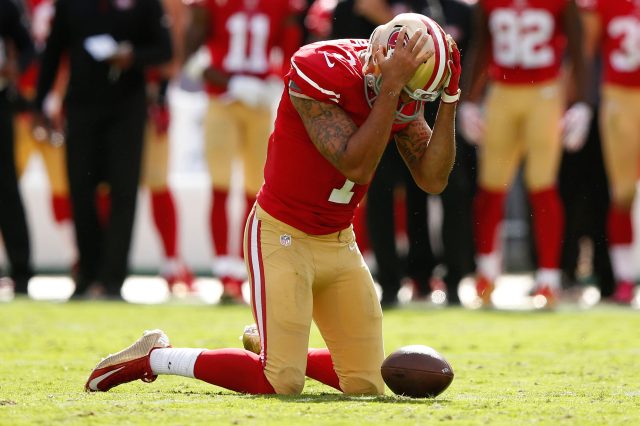 Colin Kaepernick was a quarterback for the San Francisco 49'ers.  His team was horrible, and so was he.  It wasn't always that way.  Kaepernick's play declined, for innumerable reasons.  At the same time, he led a small, well-publicized, campaign to kneel during the National Anthem at each game.  This he did in protest of what he believes is the oppression of blacks in this country.   Mr. Kaepernick lost his starting job on the worst team in the NFL, and when the season ended, the 49'ers and he parted ways.  Now, Mr. Kaepernick can't find a job in the NFL.
Kaepernick apologists are suggesting that the NFL owners are discriminating against him because of his color.  That's unsupported by the facts, history, or reason.  It's a conclusion founded in racism or ignorance, take your pick.
Mr. Kaepernick hatched an ill-conceived plan to flip off most of America with his political statement and disrespect of our flag.  When his team faltered and his play got worse, not surprisingly, no one wanted him.
Kaepernick was 11-24 as a starting quarterback over the last three seasons.  He was 3-16 over the last two seasons.  He was 1-10 last year.
In 2011, Tim Tebow was 7-4 as an NFL quarterback.  He led his team to the playoffs, and on the road in Pittsburg, Tebow threw for 316 yards for a stunning upset.   The enormously popular Tebow, a Heisman Trophy winner, never started another game at quarterback.  Tebow was a flawed quarterback with lots of positive baggage and the opportunity to sell tickets.  Still, NFL coaches didn't want flaws plus distractions.  And, people like Tebow.
In his last year in the big leagues, Dave Kingman hit 35 homeruns.  In the history of baseball, few hit balls further than the man they once called, Kong or Sky-king.   Kingman played for so many teams, it's hard to count.  He played for the Giants, Mets, Padres, Angels, Yankees, Cubs, Mets again, and Oakland.  His last season, he had 94 RBI's with his 35 home-runs.
In the history of baseball, no one ever hit that many homeruns in their last season.  Do you know why?  Because if you hit 35 homeruns in a season, someone, anyone, will sign you.
Kingman, however, was famously a miserable person, who teammates and those stuck covering him didn't like very much.  Oh, and Kingman either homered or struck out.  In short, he was ok, but not worth the hassle.  Kingman wasn't blackballed because of his color … white … he couldn't get a job because of his personality … which allegedly was "A-hole."  Average or worse athletic ability plus being a jerk are not great selling points.
The NFL is a majority-minority league.  Kaepernick's color didn't affect him when the 49'ers signed him originally in the second round.  His color certainly didn't affect him when the 49'ers gave him a 126 million dollar contract extension several years later, with millions guaranteed.
Kaepernick isn't the first unpopular, under-performing, professional player for whom owners and fans have no love.  He isn't the first player of any color who finds himself good enough to get a job, but not wanted enough to be offered a job.  That's Kaepernick's fault.
Jimmy Johnson, head coach of the famed Cowboys teams of the 90's once cut a special teams player for sleeping in a meeting.  A reporter asked him what he would do if he found Troy Aikman sleeping in a meeting.  Johnson, replied, "I'd go over and say, wake up Troy."
Great players get great breaks.  Good players get some breaks.  Mediocre players get no breaks.  Mediocre players who bring a host of outside issues and problems to a team and clubhouse … they get cut.  After they get cut … they have a really hard time finding jobs
Nobody gives a damn about Kaepernick's color … except Kaepernick.
The only person who inserted race into his game, job performance, and how he would be viewed, is Colin Kaepernick.  Kaepernick hurt his team on the field, and he hurt his league in the pocket-book.  That's a rough combination.
Truth be told, the NFL shamelessly permitted Kaepernick a platform for his political protest.  It had no legal obligation to do so.  Owners foolishly thought that letting one of its players speak out on a social issue on its platform would be better than the alternative … which was to have a bunch of billionaire white owners tell that minority player in a majority-minority league to pound sand.
The owners were dead wrong.
In fact, I knew they would be wrong.  I wrote early on that NFL owners feared a backlash from fans, and they were too afraid to take a stand.  Moreover, I wrote that what the NFL needed was an owner to cut Kaepernick.  I also wrote that what America really wanted to see, was one of the players on the sidelines drag Kaepernick to his feet before old glory.  Apparently, the 49'ers didn't have any real men on their team.
As I wrote, and Mr. Kaepernick now knows, free speech isn't always free.
Is Kaepernick being blackballed because of his color?  No.
He's a player in decline.  He's a player fans don't like very much.  He's selfish, disrespectful, and expensive too.   Now, a handful of racist rubes think Kaepernick is getting the short end of the stick because of his color.  No.  He's getting the short end of the stick because he's not very good, and he's a racist, and he disrespected our flag.
 It's not the color stupid.  It's the stupid … stupid.
Author:
Richard Kelsey
Richard Kelsey is the Editor-in-Chief of Committed Conservative.
He is a trial Attorney and author of a #11 best-selling book on Amazon written on higher education, "Of Serfs and Lords: Why College Tuition is Creating a Debtor Class"
Rich is also the author of the new Murder-Mystery series, "The ABC's of Murder," book one is titled, "Adultery."
Rich is a former Assistant Law School Dean and Law Professor. At Mason Law Kelsey conceived of, planned, and brought to fruition Mason's Center for the Protection of Intellectual Property, known as CPIP, drawing on his expertise as a former CEO of a technology company specializing in combating cyber-fraud.
In 2014 he was elected by the graduating class as the faculty speaker at their graduation.
He is a regular commentator on legal and political issues in print, radio and on TV. Rich has appeared on hundreds of stations as a legal expert or political commentator. He provided the legal analysis for all stages of the Bob McDonnell trial and appeal for numerous outlets including NPR and WMAL.
Rich also writes on occasion for the American Spectator and CNSNews.com.
In his free time, Rich is part of the baseball mafia of Northern Virginia, serving on numerous boards and as a little league and travel baseball coach.
His Twitter handle is @richkelsey.