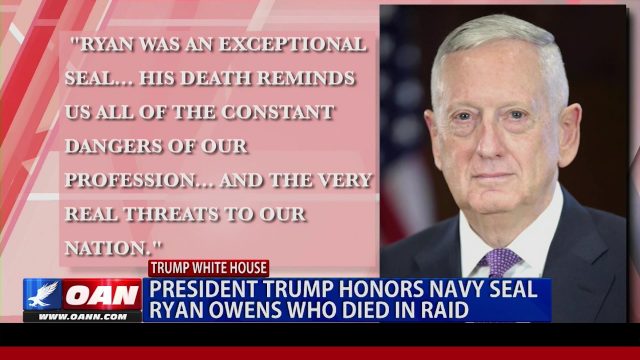 Ryan Owens is a genuine American hero.  He was that before the Navy Seal's death in combat in Yemen.  Owen served 12 deployments. He earned in blood and valor the Silver Star, Navy and Marine Corps Medal, a Bronze Star and a Purple Heart. Owens was a member of the fabled Seal Team Six.  For those with knowledge of the Seals, Seal Team Six is a super-elite group in the Seals that represent the best of all Seals.  Most Seals who apply for that group wash out.  And, as we know, some of the toughest and best trained soldiers in the world wash out just trying to be a Navy Seals.  Seal Team Six men are the bravest, strongest, smartest, mentally toughest, warriors our country has to offer in our defense.  His loss is a time for reflection and thanks, not for a partisan agenda.  We owe our heroes that.
Ryan Owens' father, Bill Owens was in the Navy.  Ryan's older brother was a Seal too.  His other brother, according to reports, is a police officer, as was his mother before her passing.  With Ryan's death in battle, his father is grieving.  He is angry, and he has every right to both emotions.  Bill Owens refused to shake the hand of the President when his son was returned, and he did not want to meet him when the President came to pay his respects. Judge him in that moment, I will not.  Claim I would do differently, I will not.  I can't imagine losing a son, even if his full-time job was to be the tip of the sword in every dangerous mission for my country.
Mr. Owens wants what every grieving parent who loses a child wants … the impossible.  He wants his boy back.  When a parent realizes the depth of that loss, the parent sometimes lashes out and wants to hold someone responsible for that loss.  I get it.  I understand it, and I fully appreciate how some parents get right in that spot and stay there.  In fact, I can't imagine how any grieving parent of a child lost doesn't get angry or look for scapegoats.
The younger Owens died on a mission Americans know little about.  Most Seal missions are not public information, even after the event.  We do know the military planned this highly sensitive mission for over a year, and the team trained relentlessly for it. President Obama did not green-light the mission, and some reports say it was because he feared the risks.  Fan or critic of Mr. Obama, he proved he would send our Seals where they needed to go at great risk if the opportunity and target were right.  We trust all our Presidents to do that. When those missions are approved, the President, and every Seal and officer up the line from the ground team knows there is a chance that the mission ends without everyone or even anyone coming home alive.
The commanders on this mission were ready before Mr. Obama left office.  However, the team preferred the cover of a moonless night to aid their stealthy approach to a hostile target.  The next moonless night fell after President Trump became President.  Briefed on the mission, the targets, the intel, the training, the risks, and yes, the desire to go … and to go … on a moonless night, President Trump authorized the mission.  Very early in the mission, the Seal team we are told was compromised.  In short, they landed in a hot zone and were immediately found, losing all element of surprise.  Reports say Ryan Owens was mortally wounded at the very beginning of that fight.
The mission resulted in many deaths on the ground, including some civilians. The Military says it gained valuable intelligence.  Some politicians claim the raid was a failure.  One thing we know for sure, Navy Seal Owens died … and that was a heavy price to pay.  Still, it was a price factored into every mission Seal Team Six undertakes.
Now, after the long piece published by the Miami Herald about the Seal's father, we find out that besides being a grieving dad, Mr. Owens was never a fan of Mr. Trump.  He thinks his son's death is the President's fault, and he likewise thinks President Trump ordered his boy into an impossible situation, just to prove his ego, and as a result, his boy died.  The father ought to know better, but grief wrapped in political acrimony is rarely a recipe for reason.
Ryan Owens died because he landed in a war ravaged country of fanatical killers, and he attempted a daring mission with splendid men aimed at making America safer.  He knew the risks.  He trained for the mission, and his commanders thought the best soldiers on earth were ready for a mission so critical that the prior administration set the Seals on a year-long path to train for it. Those are the facts.
Since the Miami Herald story broke, social media and mainstream media have been beating down the door of the dead Seal's father … not to give him comfort … but to feed his anger.  Why?  Are they trying to un-cover a scandal?  No.  They want to beat Mr. Trump over the head with unfavorable press, suspicions of his motives, and a compelling story that backs a narrative that Trump is a reckless cowboy.  To achieve their ends, they will gladly exploit a raging father and use the corpse of an American hero.  It is a shameless, gutless, disgraceful abuse of media power and a corrosive political tactic.  This drum-beat of indecency is why Americans increasingly distrust the media and government.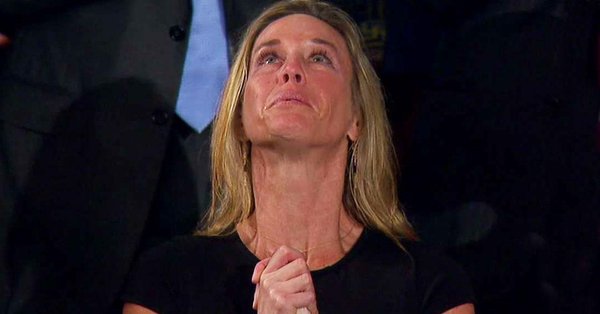 I can't tell you what Ryan Owens would have wanted in life.  I am sure of what he wanted from the mission.  He wanted to live, to protect his comrades, and to secure the mission for his country.  That's who Seals are.  What he might have wanted should he perish, that's speculation.  I will tell you, however, what he deserves.  He deserves our respect, our admiration, and the decency of our American judgment not to use his death for a cause that divides his country.
Pray for his father.  Pray for our President.  Then, pray our media stops trying to use the death of our men as a political sword in a game of ratings.  We all deserve that.
Author:
Richard Kelsey
Richard Kelsey is the Editor-in-Chief of Committed Conservative.
He is a trial Attorney and author of a #11 best-selling book on Amazon written on higher education, "Of Serfs and Lords: Why College Tuition is Creating a Debtor Class"
Rich is also the author of the new Murder-Mystery series, "The ABC's of Murder," book one is titled, "Adultery."
Rich is a former Assistant Law School Dean and Law Professor. At Mason Law Kelsey conceived of, planned, and brought to fruition Mason's Center for the Protection of Intellectual Property, known as CPIP, drawing on his expertise as a former CEO of a technology company specializing in combating cyber-fraud.
In 2014 he was elected by the graduating class as the faculty speaker at their graduation.
He is a regular commentator on legal and political issues in print, radio and on TV. Rich has appeared on hundreds of stations as a legal expert or political commentator. He provided the legal analysis for all stages of the Bob McDonnell trial and appeal for numerous outlets including NPR and WMAL.
Rich also writes on occasion for the American Spectator and CNSNews.com.
In his free time, Rich is part of the baseball mafia of Northern Virginia, serving on numerous boards and as a little league and travel baseball coach.
His Twitter handle is @richkelsey.