So … when is the Falcons' March on Washington?  Seventy-three percent of the country wanted the Falcons to win this game. They lead almost the entire game. The third-quarter exit polls had them winning handily.  Obviously, the NFL engaged in score suppression, and the Refs, I heard, had ties to Russian bankers, who have ties to Putin, who controls Trump, who roots for BRADY!
Larry Tribe thinks the Emoluments Clause might be implicated. Apparently, Trump was eating Pho soup while watching the game in Mar-a-Lago.  The Soup contained special Vietnamese spices, which were subsidized by the government of Vietnam, which had an embassador, who recently rented a room in Trump tower from Trivago.  Norm Eisen, Richard painter, and Laurence Tribe will be updating their white paper to explain how that Constitutes an emolument under original intent.
In addition, my friend's, cousin, has an ex-lover, whose brother-in-law delivers pez dispensers to Gillette Stadium.  He knows a guy, who knows a girl, who dated a transgender, illegal alien, Muslim refugee … who was subject to extreme vetting … who heard that New England deflated the balls at half-time.
If that's not bad, Brady is said to be working secretly to offshore jobs for Falcon fans to China, while producing his own clothing line in Mexico … employing child labor to whom he provides no healthcare. In addition, all the Patriots gear will be sold by Hobby-lobby, who just donated to Citizens United.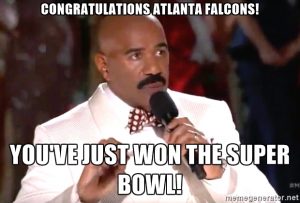 It's apparently all a part of a secret plan of Bob Kraft and Trump to take away women's rights.  Marchers are knitting hats for the big event. The hats will look like Patriot's hats, only with Falcon droppings in the shape of a vagina.
I read it on the internet.
R. Goodell
Author:
Richard Kelsey
Richard Kelsey is the Editor-in-Chief of Committed Conservative.
He is a trial Attorney and author of a #11 best-selling book on Amazon written on higher education, "Of Serfs and Lords: Why College Tuition is Creating a Debtor Class"
Rich is also the author of the new Murder-Mystery series, "The ABC's of Murder," book one is titled, "Adultery."
Rich is a former Assistant Law School Dean and Law Professor. At Mason Law Kelsey conceived of, planned, and brought to fruition Mason's Center for the Protection of Intellectual Property, known as CPIP, drawing on his expertise as a former CEO of a technology company specializing in combating cyber-fraud.
In 2014 he was elected by the graduating class as the faculty speaker at their graduation.
He is a regular commentator on legal and political issues in print, radio and on TV. Rich has appeared on hundreds of stations as a legal expert or political commentator. He provided the legal analysis for all stages of the Bob McDonnell trial and appeal for numerous outlets including NPR and WMAL.
Rich also writes on occasion for the American Spectator and CNSNews.com.
In his free time, Rich is part of the baseball mafia of Northern Virginia, serving on numerous boards and as a little league and travel baseball coach.
His Twitter handle is @richkelsey.