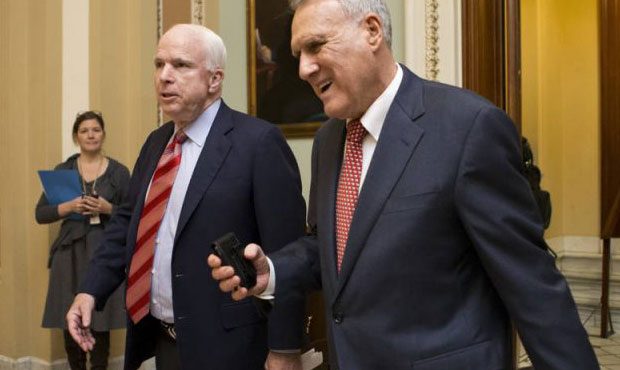 PHOENIX (Real Fake News) – Arizona Gov. Doug Ducey announced today that he has appointed former Republican Senator John Kyl to the Senate seat vacated by the death of Senator John McCain last week.
Republicans, who lost a traditionally safe seat in Alabama last year, rejoiced at the news that they were gaining a seat back.
Democrats, meanwhile, were outraged that Gov. Ducey did not maintain the tradition of replacing deceased senators with a person of that senator's party.
"Senator McCain was a reliable vote against the Republicans and their extremism," said Senate Minority Leader Charles Schumer (D-NY). "Replacing him with a Republican who has shown a willingness to vote with Republicans on the most important issues facing our country is a betrayal of Sen. McCain and everything he stood for."
"Appointing John Kyl to succeed John McCain is no different than Democrat Doug Jones succeeding Republican Jeff Sessions in Alabama," replied Senate Majority Leader Mitch McConnell (R-KY). "With this appointment, Gov. Ducey has once again balanced the scales."
Upon learning of Kyl's appointment to McCain's Senate seat, President Trump sent out a celebratory tweet stating, "With new GOP Senate majority, we can confirm Kavanaugh, fight illegal immigration, protect 1st Amdt, and repeal Obamacare! #MAGA"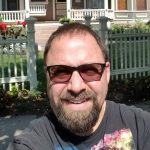 Author:
Ken Falkenstein
Ken Falkenstein is the Managing Editor of Committed Conservative and brings a wealth of experience and expertise in public affairs to the job. Ken served in the U.S. Army in the last years of the Cold War as a Russian linguist for military intelligence and the NSA. After leaving the Army, he earned his degree in Secondary Education from Old Dominion University, where he also wrote a popular column in the student newspaper.
Upon graduation, Ken worked as a Legislative Aide to two Republican members of the Virginia House of Delegates. Ken also served as Corresponding Secretary of the Young Republican Federation of Virginia, managed several successful political campaigns, and managed governmental affairs operations for a local Realtor association.
In 1995, Ken moved to Washington, DC to serve as a Legislative Assistant to Sen. John Warner (R-VA). While working for Sen. Warner, Ken attended law school at night, earning his J.D. with honors from the George Mason University School of Law (n/k/a The Antonin Scalia Law School). Since that time, Ken has practiced as a civil litigation attorney, including serving for three years as an Associate City Attorney for the City of Virginia Beach, Virginia.
Ken previously was a contributor to the highly-regarded political blog Bearing Drift and was a weekly co-host of The Steve Batton Radio Program. In 2016, Ken ran unsuccessfully for the Virginia Beach School Board. Ken is also a former President of the Down Syndrome Association of Hampton Roads.
Ken now lives outside of Denver, Colorado with his wife, Kim, and three sons, Adam, Dylan, and Joshua, who has Down syndrome. Ken's writing is motivated and informed primarily by his concern for his kids' future.