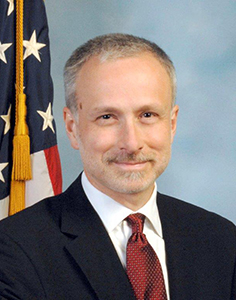 A trusted source confirms that FBI General Counsel Jim A. Baker is out at the FBI.  Baker, as General Counsel, serves at the pleasure of the Director and is not subject to Senate approval.
Baker's departure may be a function of natural churn within the agency, as many thought Baker would be replaced with the incoming FBI Director.  The FBI has found itself increasingly in the news as a result of its role in high-profile investigations involving the President and former Secretary of State Hillary Clinton.
In July, reports circulated suggesting that Baker was under investigation for possible leaks.
Our source at Committed Conservative did not speculate as to why Baker was out, or if it was in anyway connected to recent press stories about the agency.  The timing, however, if it were normal turnover, is surely poor given all the current press coverage of the agency.
It is believed that Baker is only leaving his role as FBI General Counsel, but will be staying with the agency.  We will update this story if more information becomes available.
Author:
Richard Kelsey
Richard Kelsey is the Editor-in-Chief of Committed Conservative.
He is a trial Attorney and author of a #11 best-selling book on Amazon written on higher education, "Of Serfs and Lords: Why College Tuition is Creating a Debtor Class"
Rich is also the author of the new Murder-Mystery series, "The ABC's of Murder," book one is titled, "Adultery."
Rich is a former Assistant Law School Dean and Law Professor. At Mason Law Kelsey conceived of, planned, and brought to fruition Mason's Center for the Protection of Intellectual Property, known as CPIP, drawing on his expertise as a former CEO of a technology company specializing in combating cyber-fraud.
In 2014 he was elected by the graduating class as the faculty speaker at their graduation.
He is a regular commentator on legal and political issues in print, radio and on TV. Rich has appeared on hundreds of stations as a legal expert or political commentator. He provided the legal analysis for all stages of the Bob McDonnell trial and appeal for numerous outlets including NPR and WMAL.
Rich also writes on occasion for the American Spectator and CNSNews.com.
In his free time, Rich is part of the baseball mafia of Northern Virginia, serving on numerous boards and as a little league and travel baseball coach.
His Twitter handle is @richkelsey.