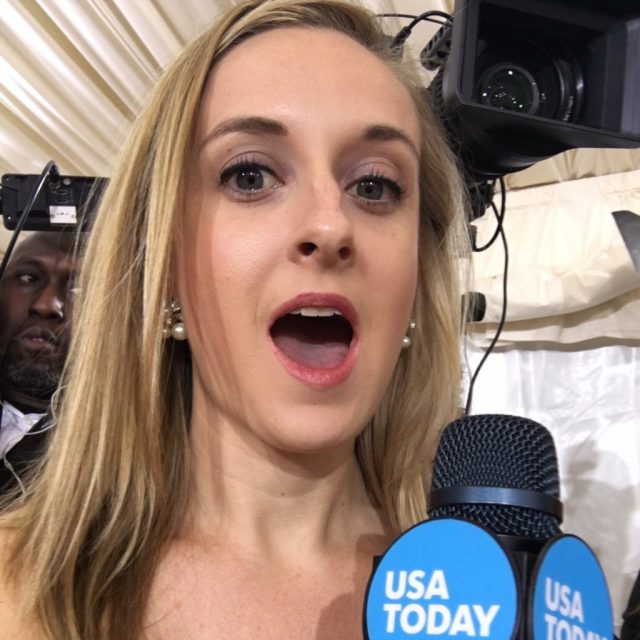 NEW YORK (Real Fake News) – The Columbia University Graduate School of Journalism announced today that the prestigious Pulitzer Prize for Investigative Reporting has been awarded to Cara Kelly of USA Today for her groundbreaking exposé, "Work Boots and White Jeans? Melania Trump's Outfits Still Missing the Mark for Some."
"While everyone else in the news media was predictably covering the shooting of a few hundred people in Las Vegas, only Cara Kelly had the vision and courage to find the real news of the day," said Eugene Robinson, Chairman of the Pulitzer Prize Board. "Melania Trump was wearing white jeans while visiting the victims of Hurricane Maria in Puerto Rico, and no one but Cara had the nose for news to sniff out this vitally important story and report it to the world."
On Tuesday, President and Mrs. Trump arrived in Puerto Rico to survey the enormous damage caused by Hurricane Maria. While most major national news organization were focusing on the recent shooting of several hundred people in Las Vegas Sunday night, only USA Today's Cara Kelly instinctively understood the greater importance of the first lady's pants.
"I wasn't even there," said Ms. Kelly, "but when I saw the pictures of Mrs. Trump in those white jeans, I knew the world had to be informed."
"My biggest concern was that I didn't want to step on the toes of my colleagues on the ground in Puerto Rico," continued Ms. Kelly. "I knew they would think that their coverage of the president's activities should be the main story, but I also knew that the real story was the first lady's legwear.  My problem was that I didn't want to trigger my colleagues. I mean, I need to work with those guys."
Ms. Kelly solved her dilemma by utilizing the creative prose for which she is so highly regarded.
"Though [Mrs. Trump's] '90s footwear is . . . suited for traipsing around an island that experienced flooding and downed trees," wrote Ms. Kelly, "she paired them with a curious choice in legwear that sparked immediate backlash on Twitter: a pair of tight, white jeans."
Ms. Kelly's exposé went on to include the kind of investigative journalism rarely produced by any but the most elite reporters:
Whether or not you believe the adage that white should not be worn after Labor Day, white jeans are typically synonymous with summer days in the Hamptons or some other shore-side locale, thrown on when the temperature dips after a long day in the sun. They've been embraced as street and office wear for hot days that require covering but breathability.
In its announcement, the Pulitzer Prize Board noted, "If Ms. Kelly had not given us this exemplary piece of investigative journalism, the world might never have learned which pants the first lady wore on that fateful day in Puerto Rico. Instead, news consumers would have been left with nothing but routine stories of the president and first lady surveying the damage from the worst hurricane to hit Puerto Rico in over a century and meeting with officials to plan the recovery. Our readers deserve better. They deserve Cara Kelly."
Upon receiving word of the award, Ms. Kelly said, "I believe that we as a journalistic community and profession must aim higher than the ordinary. Anyone can cover the aftermath of disasters that kill people and leave thousands homeless. We must strive to find where the real story lies. In this case, it was the first lady's pants. Next time it might not even be something that actually happened, but if it makes Republicans look bad, we owe it to our readers to report it. The Pulitzer Prize Board and the journalistic community should never accept anything less."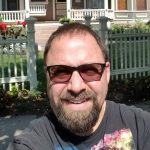 Author:
Ken Falkenstein
Ken Falkenstein is the Managing Editor of Committed Conservative and brings a wealth of experience and expertise in public affairs to the job. Ken served in the U.S. Army in the last years of the Cold War as a Russian linguist for military intelligence and the NSA. After leaving the Army, he earned his degree in Secondary Education from Old Dominion University, where he also wrote a popular column in the student newspaper.
Upon graduation, Ken worked as a Legislative Aide to two Republican members of the Virginia House of Delegates. Ken also served as Corresponding Secretary of the Young Republican Federation of Virginia, managed several successful political campaigns, and managed governmental affairs operations for a local Realtor association.
In 1995, Ken moved to Washington, DC to serve as a Legislative Assistant to Sen. John Warner (R-VA). While working for Sen. Warner, Ken attended law school at night, earning his J.D. with honors from the George Mason University School of Law (n/k/a The Antonin Scalia Law School). Since that time, Ken has practiced as a civil litigation attorney, including serving for three years as an Associate City Attorney for the City of Virginia Beach, Virginia.
Ken previously was a contributor to the highly-regarded political blog Bearing Drift and was a weekly co-host of The Steve Batton Radio Program. In 2016, Ken ran unsuccessfully for the Virginia Beach School Board. Ken is also a former President of the Down Syndrome Association of Hampton Roads.
Ken now lives outside of Denver, Colorado with his wife, Kim, and three sons, Adam, Dylan, and Joshua, who has Down syndrome. Ken's writing is motivated and informed primarily by his concern for his kids' future.