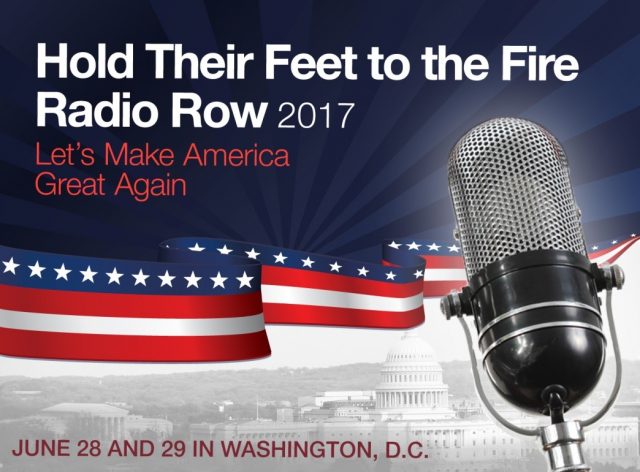 A growing and influential collection of real immigration reformers are meeting in Washington for the 11th Annual "Hold their Feet to the Fire" event, hosted by the Federation for American Immigration Reform (FAIR).   Not surprisingly, the event is receiving very little mainstream media coverage because these Americans seek reform that prioritizes America first.
Organizers, however, have assembled a large group of national radio broadcasters and political commentators for the event, to include conservatives  Lars Larson, Armstrong Williams, Phil Valentine, Mike Siegel and Frank Gaffney, Larry O'Connor (WMAL Washington, D.C.); Tom Shattuck (Boston Herald Radio); Rose Tennet (WPGP Pittsburgh); Frank Beckman (WJR Detroit); Marc Cox (KFTK St. Louis); Bruce Elliott (WCBM Baltimore); Brett Winterble (KFMB San Diego); Joyce Kaufman (WFTL West Palm Beach); Joe Thomas (WCHV Charlottesville, Va.); and Heidi Harris (KXNT, Las Vegas).
Also at the event is syndicated columnist, political commentator, and CR-TV analyst Michelle Malkin.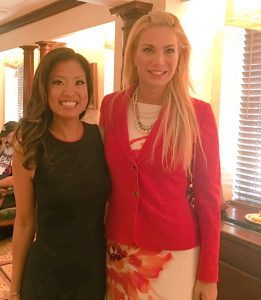 The Event, held over two days, focuses this year on:
Enhancing border security and construction of a secure border fence.
Reversing reckless and unconstitutional Obama-era executive policies.
The need for mandatory E-Verify in employment to discourage illegal immigration and protect American workers.
Ensuring proper vetting of immigrants and refugees from countries known to harbor or support terrorism.
Eliminating sanctuary policies that protect illegal aliens and endanger public safety.
Reforming policies for legal immigrants to ensure they can succeed and benefit the nation.
The "Hold Their Feet to the Fire" event represents the type of active, ongoing, political movement that takes place in the shadows because that is exactly where MSM outlets want to keep real grass-roots movements.  If this were an annual march for immigration justice, or for amnesty, or for immigration rights, you would see and hear about it in the Dinosaur Media and Press.
The declining power of the MSM and the distrust Americans have for it comes from what Americans now easily identify as slanted and selective coverage.  That leaves most Americans searching for and finding alternative news and information outlets.  Make no mistake, sometimes that search results in an echo chamber, and sometimes it leads consumers of news to unreliable, if not fake sources.  However, the crisis of credibility in our media begins with the biggest media names, as I have catalogued repeatedly.
The MSM may be ignoring Americans' desire to tackle the 30 year waive of illegal immigration.  However, this growing list of national, respected broadcasters demonstrates that the message of the grassroots is thriving, and it is getting out to key audiences who thirst for real action to both reform our legal immigration system to improve it for a vibrant immigration system, and to stop unchecked illegal immigration.
I have been writing on this topic for more than 26 years, before some immigration reformers even knew reform was needed. Indeed, the issue of mass illegal immigration came home to me, thousands of miles from our southern border.
Many pundits, reformers, and politicians talk about immigration reform, and they often do it from the perspective of illegal immigrants.  They forget that immigration is for the benefit of Americans first, and not to benefit the needs and desires of would-be immigrants.  Such an immigrant centric policy would be foolish, as would a policy that would stop all smart, thoughtful, necessary legal immigration.
The focus on walls has obscured the greater reform issues, which require that we eliminate the incentives to come here illegally. Now, we have some national attention the sanctuary cities, a problem that exists because we ignored illegal aliens.  Make no mistake, innumerable tools are at the disposal of a willing government to address both sanctuary cities and the illegal and improper incentives they create.
For Americans, of every political stripe, immigration reform is essential to the health of our country and economy.  It is critical for our safety, and it is a vital to our common culture to ensure both our growth and necessary acculturation.
FAIR is on the front lines of this effort, and it has been for a very long time.  The event it hosts now each year continues to grow. The influence of that event depends on Americans like you and me, spreading the word, supporting the movement, and looking to build responsible, yet urge responses and policies to address all our immigration issues.
Author:
Richard Kelsey
Richard Kelsey is the Editor-in-Chief of Committed Conservative.
He is a trial Attorney and author of a #11 best-selling book on Amazon written on higher education, "Of Serfs and Lords: Why College Tuition is Creating a Debtor Class"
Rich is also the author of the new Murder-Mystery series, "The ABC's of Murder," book one is titled, "Adultery."
Rich is a former Assistant Law School Dean and Law Professor. At Mason Law Kelsey conceived of, planned, and brought to fruition Mason's Center for the Protection of Intellectual Property, known as CPIP, drawing on his expertise as a former CEO of a technology company specializing in combating cyber-fraud.
In 2014 he was elected by the graduating class as the faculty speaker at their graduation.
He is a regular commentator on legal and political issues in print, radio and on TV. Rich has appeared on hundreds of stations as a legal expert or political commentator. He provided the legal analysis for all stages of the Bob McDonnell trial and appeal for numerous outlets including NPR and WMAL.
Rich also writes on occasion for the American Spectator and CNSNews.com.
In his free time, Rich is part of the baseball mafia of Northern Virginia, serving on numerous boards and as a little league and travel baseball coach.
His Twitter handle is @richkelsey.