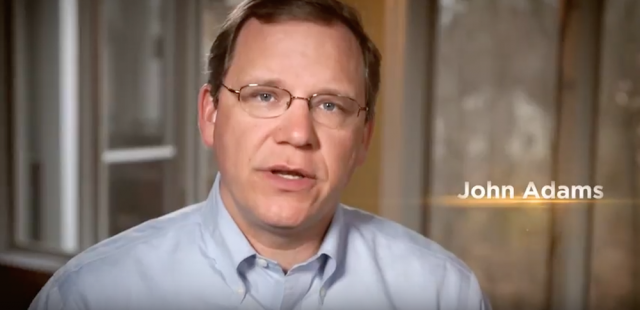 The last several years have not been kind to the reputation of Commonwealth of Virginia.  Political scandal rocked the governorship, with Bob McDonnell watching his liberty interest imperiled until a US Supreme Court reprieve.  Current Governor Terry McAuliffe has been under federal investigation, while the Commonwealth suffered under the yoke of his highly political shenanigans, including McAuliffe's  improper effort to drive votes to Mrs. Clinton by end-running the voter-felon restoration process.  At the Attorney General level, a partisan politician abandoned his obligation to defend the Commonwealth, and later Mr. Herring re-wrote Virginia domiciliary law to permit illegal aliens to get in-state tuition.   Once the pride and pillars of our American revolution, The Commonwealth suddenly has had a decidedly Chicagoan scent to its politics.  Virginia needs integrity and excellence.  Virginia needs John Adams.
John is a man of character and rare accomplishment.  John Adams can restore our faith in government, give credibility to our standards of excellence, and once again show that the Commonwealth offers a great thinker and legal mind to our political discourse. In the race for the Attorney General of Virginia, the voters of the Commonwealth have a stark choice.  They can choose a Cadillac, or they can send back a used-car salesman.
John Adams is a rare find in the legal world.  He's elite.  Mr. Adams's resume includes working as a judicial law clerk for Justice Clarence Thomas.  How elite is that in the legal world?  Each year law schools graduates approximately 30,000 new lawyers.  The Supreme Court hires 36 law clerks.  How good are they?  You have to clerk somewhere else first, often two other prestigious clerkships before you can be considered in the top 36 in any year.   You don't get these jobs through privilege, affirmative action, or some network of high-powered giving.  You get those positions by having remarkable analytical skills, superior writing abilities, and a tireless work ethic.
My law school, a top tier law school in America, and a great pride in the Commonwealth has produced just one Supreme Court law clerk in our long and remarkable history. That's how rare the accomplishment is for any law graduate.
When you consider who might be the top lawyer for the people of the Commonwealth, you have two resumes from which to choose.  You can hire the best of the best, or you can hire back a third-string politician whose political ambition far exceeds his legal or ethical standards.
When my dad was diagnosed with colon cancer in the mid 1980's, his doctor recommended a local physician for the surgery and treatment.   Dad slept on it a few nights, as much as one sleeps with an orange-sized malignant tumor growing in one's body.  He went back to his doctor and asked, "If it was your life, where would you go and who would you trust?"  His doctor gave him a recommendation of the doctor and facility he considered the best in the country.  My dad got another 25 years of life.
The Commonwealth has plenty of lawyers.  We are teaming with them, and we are indeed blessed with some strong lawyers.  Likewise, we have an unlimited number of people who seek power for its own sake … garden variety politicians.
We deserve better than just any lawyer or any would-be politician.
John Adams isn't just better, he is one of the best legal minds this country or Commonwealth has to offer. He has great experience as a federal prosecutor, where he went after white-collar crime and prosecuted political corruption.  Before that, He served as Associate Counsel to the White House.  Before taking leave to run for office, he was the Chair of the white collar crime division of one of Virginia's most prominent law firms.  And, long before he even entered law school, John Adams attended VMI and then served his country here and abroad as an officer in the US Navy.
If you needed a lawyer, you would hire the best available for yourself, your family, and your loved ones.  Now, you have a chance to do just that.  We need to hire the best.  We need to reward the best.  And, the Commonwealth deserves the best.
There is one choice on the ballot to restore confidence in the Commonwealth's reputation.  His name is John Adams.
Author:
Richard Kelsey
Richard Kelsey is the Editor-in-Chief of Committed Conservative.
He is an Attorney, a former Assistant Law School Dean, Law Professor, and Virginia state court law clerk. Dean Kelsey was also the CEO of a technology company specializing in combating cyber-fraud. He is a regular commentator on legal and political issues in print, radio and on TV.
Rich graduated from George Mason law school, clerked for the Arlington Circuit Court, and later joined an AM LAW top 10 law firm practicing commercial litigation. He left the firm to be counsel and CEO to a consulting firm, rising to CEO of Turiss, LLC, a technology firm specializing in computer forensics, digital investigations, and fighting cyber-fraud through civil intel services and new technologies. Upon the sale of the company, Kelsey returned to Mason Law, where in the years before his return, he both taught at the school and served as President of the Law Alumni Association. Kelsey was the Assistant Dean for Management and Planning.
At Mason, Dean Kelsey taught legal writing and analysis and an advanced litigation seminar. In 2014 he was elected by the graduating class as the faculty speaker at their graduation. While serving the former George Mason Law, Kelsey conceived of, planned, and brought to fruition Mason's Center for the Protection of Intellectual Property, known as CPIP.
Rich has appeared on radio, TV, and in print hundreds of times as both a legal expert and political and legal commentator. He provided the legal analysis for all stages of the Bob McDonnell trial and appeal for numerous outlets including NPR and WMAL. He writes on occasion for the American Spectator and CNSNews.com. He returned to private practice in September of 2016, and he is working on a book/expose on legal education.
In his free time, Rich is part of the baseball mafia of Northern Virginia, serving on numerous boards and as a little league and travel baseball coach.
Rich has many opinions, and they are his own. His Twitter handle is @richkelsey.